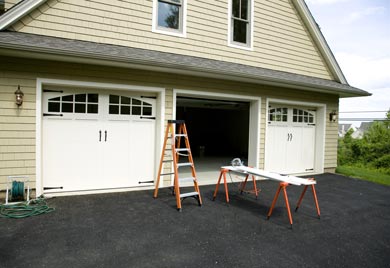 Remodeling your home while you're still living there can be a stressful time. It's important to understand the fact that your daily life will be interrupted for a while, but that doesn't have to be the end of the world.
Here are some tips our cabinet and flooring designers recommend to make life a little easier while you're remodeling your home. If you have any additional questions or concerns, please contact us today.
Preparing for Remodeling
Establish Boundaries
Our remodeling contractors are polite and professional while working in your home. However, they can't read your mind. Let your contractors know your acceptable working hours before they get started on your remodeling project. For example, if you have small children that go to bed at 6 o'clock, you'll want to let your contractor know ahead of time so they know when to wrap up for the day. Once a remodeling project is underway, you will not be able to establish working hours as easily.
Create a Living Space
home renovation produces dust, which can get sucked into your air ducts and cover everything you own. Before remodeling, cover your air duct vents with plastic and (if possible) turn off your heating and cooling systems. Spring and early fall are some of the best times for home remodeling because you don't have to worry about the winter chill or summer heat.
is messy. Almost every phase of
Construction dust can damage furniture and wear away the finish on your hardwood floors, which is why it's important to contain as much dust as possible. We recommend sectioning off the livable areas of your home with plastic sheets and painter's tape. That way, dust has a harder time trying to sneak into living spaces.
Protect Your Furniture
Before the building contractors arrive, make sure you move any items that are fragile, valuable, or meaningful. If you don't have space to move furniture, cover it with plastic to protect it from construction dust. Hardwood floors should also be protected from gritty dust.
Whether you are planning kitchen renovation or a bathroom remodel, it's important to plan ahead to determine what needs to be moved ahead of time. For example, it's a good idea to remove your TV before you start remodeling your living room. Pictures on your walls should also be removed and stored in a safe location.
Make a Temporary Kitchen
A multi-purpose room is essential if you're planning a kitchen contractors recommend putting a microwave and mini fridge in a spare bedroom. You should also store a can opener, food, and other kitchen essentials until your remodeling project is over.
. Since you won't be able to use your kitchen for cooking or cleaning dishes, it's important that you create a temporary kitchen elsewhere in your home. Our
Using disposable plates, cups, and utensils can be a smart move so you don't have to deal with the hassle of trying to clean and dry dishes somewhere else. You and your family may also choose to eat out more often until the remodeling is finished.
Spend Time Away
Living with an ongoing home renovation project can be too stressful in the long term. However, every cloud has its silver lining. Try to make the best of your situation by trying out new restaurants or taking that trip you've been putting off. Dealing with a house remodeling project can be the perfect excuse to try something new.
Complete Flooring & Interiors is dedicated to helping homeowners just like you improve their home's interior with quality remodeling services. If you have any questions or would like a free quote, call our Grand Rapids, MI remodeling contractors at (616) 458-4806.