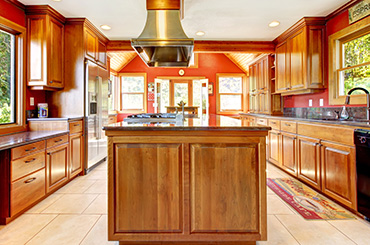 can be a smart choice for rooms such as kitchens where spills are likely to occur. Many homeowners appreciate the stain and water resistant qualities of tile, making it a popular flooring choice.
However, there are also some negative attributes associated with tile flooring that should be considered before you contact one of our flooring contractors in Grand Rapids, MI.
This guide to tile flooring will help you determine if tile installation is the right choice for your home. Below, you will find some of the pros and cons of tile flooring so you can make the best interior design decision for your home. For more information, we recommend that you consult with one of our experienced tile flooring contractors.
Pros and Cons of Tile Flooring
Pros
Adds value to home
Requires little maintenance
Stain resistant
Water resistant
Cons
Cold, hard walking surface
Doesn't muffle noise
Pro: Adds Value to Home
If you plan on selling your house in the near future, installing a new tile floor is a wise decision. Prospective homebuyers appreciate not having to worry about old, faded carpeting when they're looking for a new place to live. While upgrading your major kitchen appliances can be a flashy remodel, most homeowners can appreciate new tile flooring.
Pro: Requires Little Maintenance
Many homeowners appreciate not having to do any maintenance for tile flooring. If you live a busy lifestyle, you may be more inclined to pick a home flooring option that doesn't require much maintenance. Other than the occasional mopping, tile flooring doesn't require maintenance. In contrast, hardwood floors require screening or refinishing by a reputable hardwood flooring contractor when they get scratched or faded.
Pro: Stain and Water Resistant
water-resistant tile floor makes sense.
or bathrooms is a wise choice. It's not uncommon for people to spill things while preparing meals in the kitchen. Likewise, water spillage on the floor is common when people take baths or showers. For these reasons, installing a stain and
Tile flooring comes in a wide variety of colors and patterns so you can find the right
to complement your home's unique style. Spills aren't a problem when they happen on tile floors.
Con: Cold, Hard Walking Surface
Without radiant heating, tile floors can be a cold walking surface during the winter months. If you are someone who likes to walk barefoot throughout the house, you may not want to
extensively throughout your home. Tile flooring also makes for a hard walking surface, which is why many homeowners prefer being able to walk on plush carpeting in rooms where they spend the most time.
Con: Doesn't Muffle Noise
If you've ever had
before, you know that it doesn't muffle sound very well. For this reason, tile flooring may not be the best option for rooms on the second floor. For example, bedrooms or hallways may be better suited with carpet.
Tile vs. Hardwood Flooring
Hardwood flooring gives your home a warm, natural aesthetic. This is why many homeowners believe that hardwood flooring is worth the maintenance it needs to continue looking beautiful. For routine cleaning, use a dust mop or vacuum to remove dirt, hair, dust, and other debris. Follow the manufacturer's instructions when your floors need a more thorough cleaning.
Tile flooring requires similar maintenance. However, you won't have to be as vigilant about cleaning spills. Tiles for flooring are durable, as well as water and stain resistant.
Tile vs. Carpet Flooring
Carpet is softer and warmer than tile. This makes carpet flooring perfect for living rooms, bedrooms, and other rooms where comfort is a priority. Many of our customers love the feel of carpet flooring against bare feet, especially in the winter. Read our other blog post on why carpet is one of the best types of flooring for kids.
While tile flooring isn't the most comfortable, it makes up for it in durability and spill resistance. Tile flooring is perfect for wet areas in your home, such as in the kitchen and bathroom. That way, you don't have to worry if you accidentally spill food on your new floors.
While carpet comes in stain-resistant varieties, you'll still need to blot up spills in a timely manner. At first, a spill will sit on the surface of stain-resistant carpet. However, the spill will eventually seep deep into carpet fibers if you ignore it for too long.
Learn More About Tile Flooring
Our tile flooring contractors in Grand Rapids, MI want to help you make the best decision for your home. To learn more about tile floor installation, call Complete Flooring & Interiors at (616) 458-4806.