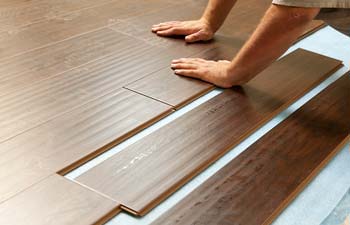 Choosing a flooring material for your home can be a difficult decision. Not only do you have to consider your budget, but you also want to select something that you won't mind looking at for the next several years. For advice, you can always count on our design consultants to help you make a decision you can be proud of.
At Complete Flooring & Interiors, our residential and commercial flooring contractors believe that informed clients make the best clients. This is why we have created this guide to help advise you through our flooring options.
Carpet
Carpeting is a staple flooring option in many American homes. We offer many different hues and textures of carpet to fit the aesthetic of your home. New carpeting can make any room feel cozy and is warm on bare feet.
Carpet is also easy to maintain. Simply vacuum once a week and make sure you blot up any
immediately. Most of today's carpet options are given a stain resistant treatment by the manufacturer; however, being proactive with stains will help preserve your carpet for years to come.
Hardwood Flooring
Hardwood floors are a classic choice for those homeowners who want their homes to exude timeless grace. While hardwood floors are also one of our most expensive options, many homeowners consider it a worthy investment in their home. If you are looking to put your house on the market, hardwood flooring can help increase your home's value and help draw in potential homebuyers.
Hardwood floors also leave the option open for maintaining the current flooring or installing carpet. Whether you plan on staying in your home for years to come or plan on selling it in the near future, are a great choice for anyone looking to update the look of their home's flooring.
READ MORE: 5 Ways to Protect Hardwood Flooring >>
Tile Flooring
Known for its durability, a tile floor is a viable choice for any homeowner who needs a floor that can withstand heavy foot traffic. For this reason, many homeowners decide to install tile for either their bathroom or kitchen.
However, just because these rooms are utilitarian, doesn't mean that you can't indulge in a tile flooring option that is both stylish and practical.
is easy to clean and water resistant.
Vinyl Flooring
Are you on a budget? If so, you may be one of many homeowners we've worked with who have found vinyl floors to be an attractive choice for their home. Vinyl is a unique flooring material because it can be made to mimic the look of more expensive flooring options for a fraction of the price.
For example, if you are interested in the aesthetic of hardwood floors, you can still achieve this look through vinyl flooring, even if it isn't in your budget.
is easy to clean and great for rooms with high foot traffic.
With vinyl, you can also mimic the look and texture of ceramic, tile, and stone. Vinyl flooring options are offered in sheets, tiles, and planks. To determine the best option for you, feel free to reach out to one of our design consultants.
Ready for New Floors?
If you have any other questions about our floor material options, please be sure to contact our Grand Rapids flooring contractors at (616) 458-4806. At Complete Flooring & Interiors, our interior design consultants pride ourselves on helping clients just like you transform their house into a home they are proud to show off.
[This blog post has been updated.]