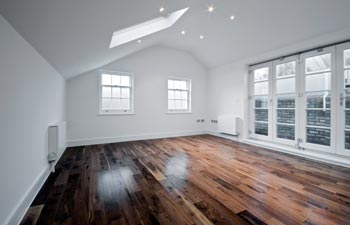 Installing new floors in your home is a big decision that can increase its value and aesthetic appeal. But before starting a home improvement project of this scale, it's important that you have all the facts about the process.
At Complete Flooring & Interiors, our experienced flooring contractors make it their mission to help homeowners get ready for the next step. If you are planning on installing new floors for your home, this guide will come in handy. Below are some of the major things you should know before scheduling your next floor installation.
It Disrupts Your Daily Schedule
During the flooring installation process, keep in mind that our flooring experts will have to walk through part of your home to get to the room that needs renovation. For example, if our team is installing a new hardwood floor for the master bedroom, we will most likely have to walk through the living room and hallway while carrying supplies.
The extent of disruption to your normal schedule will depend on the area of your home being renovated. For example, if you are putting down new vinyl flooring in the kitchen, you will not be able to prepare meals in that room until the project is complete.
At Complete Flooring & Interiors, our interior designers understand that home flooring installation can be an inconvenience. This is why we hire only the most professional designers who have the experience to create high-quality results. A well-crafted floor is well worth the wait.
You May Have to Stay in a Hotel
If you are having multiple rooms renovated at the same time, you may want to consider staying with family or in a hotel until the remodeling project is complete. However, this doesn't have to be a complete inconvenience. We have had clients plan out family outings or vacations to coincide with the timelines of their projects. That way, they could avoid the inconvenience of flooring installation and get in some quality family time.
You can also choose to stay in your home during remodeling. Each client's situation is different.
Doing It Yourself Can Wreck Your Floors
Many homeowners consider
themselves. But we don't recommend doing flooring installation yourself unless you have the necessary experience.
If you are interested in the idea of saving money through DIY, also consider that it costs money to fix any mistakes made during the floor remodel process. For professional results, it is usually best to
. That way, your project gets done right the first time. You'll also save a lot of time and stress.
Interested in Home Flooring Installation?
Ready for the next step? Contact our interior designers in Grand Rapids, MI, to get started. Our team would be more than happy to help transform your house into the home of your dreams. To get in touch with our team and learn about our financing options, call (616) 458-4806. You may also fill out our online contact form. We hope to hear from you soon!
This blog post has been updated.