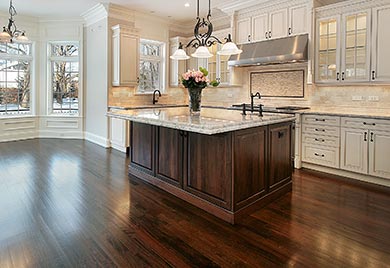 According to the flooring is best for people who plan on aging in place. If you or a loved one uses a walker or wheelchair to get around, you'll want to ask your local flooring store at Complete Flooring & Interiors about non slip flooring that is level enough to not affect balance.
, roughly 10,000 baby boomers retire every day. With more and more Americans entering retirement, we've had customers ask us what
Safety flooring to help you age in place should be:
Low maintenance
Smooth and level
Durable to wheelchair or walker use
Able to smoothly transition to adjacent rooms
Slip resistant
Not highly polished
Non Slip Tiles
Looking for safe bathroom flooring? You'll want to consider non slip tiles. Our flooring contractors recommend choosing tiles no larger than 2" by 2" so your bathroom is safe for people with limited mobility. A salesperson can also help you choose tiles with a high slip resistance rating, which is called "coefficient of friction." Not only are these bathroom floor tiles slip-resistant, but they also are durable enough to withstand years of wheelchair use.
Vinyl Flooring
Vinyl flooring is durable enough to withstand years of using a walker or wheelchair. Vinyl flooring also provides a smooth and level surface so you can safely get around your home. If you are on a budget, vinyl can help you mimic the look of more expensive materials. For example, vinyl wood flooring gives you the same aesthetic as natural hardwood. Many of our customers also choose for their homes because it is stain resistant, waterproof, and low maintenance.
Hardwood Flooring
hardwood flooring will be able to withstand years of using a wheelchair or walker.
are low maintenance, but will show signs of wear from wheelchair or walker use. For this reason, you'll want to choose a tree species like Hard Maple that ranks high on the Janka hardness test. Other durable tree species include Pine and White Ash. A high Janka hardness rating means that your
When choosing wood flooring, be sure to ask the salesperson about using a matt finish. Highly polished wood floors may give your home an air of sleek sophistication, but they are also more slippery for people who have issues with balance. Keep in mind that rugs placed over hardwood floors can also be a tripping hazard or make it difficult to maneuver a wheelchair. Real wood flooring not only adds value to your home, but helps you age in place safely.
Low Pile Carpeting
Carpeting helps family rooms and bedrooms feel cozy, especially in the winter. When you visit your local flooring company, have the salesperson show you their inventory of low pile carpet. It will be easier to maneuver a wheelchair or walker on low pile carpet with fibers about a quarter inch long. To maintain carpet flooring, you'll need to vacuum it on a regular basis. If this will be a problem, you may want to consider a more low-maintenance flooring like vinyl.
The Grand Rapids interior designers at Complete Flooring & Interiors will be able to help you install flooring to help you age in place. If you are interested in installing new flooring in your home, give us a call at (616) 458-4806.