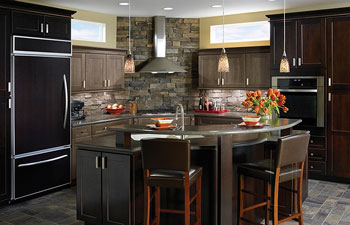 Have you been dissatisfied with your kitchen's interior design lately? Whether you want to update the look of your or you find your cooking spaces just aren't functional for you and your family's needs, we are here to help. At Complete Flooring & Interiors, our Grand Rapids kitchen designers know that many of our clients' kitchens are more than just places to prepare meals. Instead, they are often a place of socialization among family members and close friends. Our skilled kitchen designers and builders have many years of experience in refreshing the look and feel of kitchens just like yours.
There are many benefits to outfitting your kitchen with the latest cabinet designs. Below are four reasons you may want to take advantage of our new cabinet and design services.
If Your Cabinets are more than 50 Years Old
High-quality cabinets are usually built to last up to 50 years. However, if you are living in an older house, your cabinets' natural lifespan may be running out. If you find yourself doing many repairs on your kitchen cabinets just to make them functional, it may be time to consider cabinet replacement. While can be a viable option, often homeowners save money in the long-run by just replacing their . At Complete Flooring & Interiors, our kitchen cabinet experts can help you find a new cabinet style that fits your design preferences, and your life.
If Your Cabinets Aren't Functional
If your cabinets. Sometimes, can be resolved by a handyman. However, if these issues are continuous, it may be time to consider a complete cabinet replacement. Also, be sure to consider the functionality of your cabinets. Today, there are many space-saving solutions applicable to cabinets that can free up much-needed counter space.
are not opening or closing properly, it may be time to replace your
If Your Cabinets Look Dated
A latest kitchen designs, or you are interested in something more timeless, Complete Flooring & Interiorsis your best Grand Rapidscabinetry option. Our Grand Rapids cabinet designers can work with you to select a more modern stylethat can help your home stand out among the competition. Choose from our selection of kitchen cabinets and handles for a customized look.
can make it difficult to sell your home on the housing market. Whether you're looking for the
If Your Kitchen Clashes with the Rest of Your Home's Design
Kitchen design is so important, especially if your home has an design continuity of your home, be sure to select kitchen cabinets that reflect your home's unique style. For example, lighter hued woods can make your kitchen feel more airy and spacious. We have a wide selection of home kitchen cabinets for you to choose from, giving you the opportunity to customize your home according to your design preferences.
. In order to preserve the
If you are interested in how we can improve the look of your kitchen cabinets or do a complete cabinetry replacement, please feel free to call our Grand Rapids office at (616) 458-4806. At Complete Flooring & Interiors, we take pride in helping homeowners reclaim their kitchens.