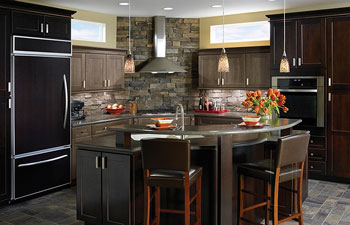 Cabinets take up a lot of real estate in your kitchen. That's why it's important you choose kitchen cabinets that are both attractive and functional. Once your cabinets are over 50 years old, they'll start showing signs of wear and tear. New kitchen cabinets will update the look of your home and increase its value when it's time to sell.
If you have more questions about cabinets, floor, or interior design in general, feel free to contact us and we'll get back to you as soon as possible.
Is it worth replacing kitchen cabinets? Ask yourself the following questions:
Are my cabinets worn and/or broken?
Do my cabinets need constant repairs?
Do my cabinets look outdated?
Does a lack of storage space affect my ability to cook and entertain?
Replace Worn and/or Broken Cabinets
Kitchen cabinets can last up to 50 years. For this reason, many homeowners are still using the original cabinets that were built with their houses. We recommend
once they start showing signs of wear and tear.
We only recommend kitchen cabinet refacing if the shelves and underlying structure are in good shape. That's because refacing only replaces the doors while leaving the rest of the cabinet intact. While refacing can help you save money, it's not worth it if the rest of the cabinet needs to be replaced.
Avoid Constant Repairs
A handyman can fix minor issues with your cabinets, such as sagging shelves or doors that don't close. If you have constant issues with your install new cabinets to help you free up counter space and improve the functionality of your kitchen.
, you may be better off replacing them. Our remodeling contractors can
Update Your Interior Design
A dated kitchen can make it difficult to sell your home, especially during a buyer's market. The good news is that replacing kitchen cabinets can quickly change the look of your home, as well as impress prospective buyers.
Improve Your Quality of Life
Believe it or not, replacing kitchen cabinets can help improve your quality of life. According to Houzz's
, about 34% of respondents reported eating less takeout after updating their kitchens. 26% of respondents reported eating more fruits and vegetables.
Also, keep in mind how much time you spend in the kitchen. Replacing kitchen cabinets can help decrease clutter on countertops, freeing up space for you to cook and entertain.
Explore Different Styles
Does your house have an open floor plan? If so, it's especially important that you choose kitchen cabinets that complement the rest of your interior design. Otherwise, your kitchen will clash with the rest of your home. It'll also be more difficult to maintain design continuity as you move from room to room.
Our design consultants can help you explore different styles. For example, white kitchen cabinets can help your home feel more light, spacious, and airy. Black kitchen cabinets, on the other hand, can make your kitchen feel more luxurious and sophisticated.
Read more: 5 tips for replacing kitchen cabinets >>
Request a Consultation
Our kitchen remodeling contractors in Grand Rapids, MI will be more than happy to answer any questions you might have. To request a consultation for your kitchen remodel, call Complete Flooring & Interiors at (616) 458-4806. Financing options are available!