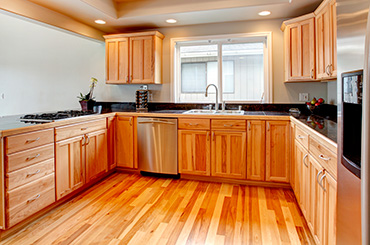 hardwood flooring installer can help get you started.
are a classic addition to any home. However, they also require the proper maintenance to keep them looking nice for a lifetime. If you are like most homeowners, you've probably already started thinking about spring cleaning. Why not include your into your plans? A professional
By following our simple tips, you can keep your hardwood floors looking beautiful for years to come. For more information, we recommend you contact a licensed hardwood flooring installation contractor in your area.
Place Interior and Exterior Doormats
With the spring season inevitably comes rain. As a homeowner, it is your responsibility to
, mud, and other outdoor debris that could be tracked in. The easiest way to stop the outside elements from ruining your hardwood floors is to place doormats in the interior and exterior of your home.
The exterior doormat will be able to catch the initial dirt or moisture your family tracks in. The interior doormat will catch the rest. While it may seem excessive to have doormats for both the outside and inside, it will make a significant difference for preventing hardwood floor damage.
Use Area Rugs to Protect Your Floor
Strategically placing area rugs around your home is an easy way to preserve the appearance of your hardwood flooring. For example, we recommend that you place rugs in front of sinks to catch any moisture before it reaches your hardwood floors.
When you buy new rugs to preserve hardwood floors, make sure that they don't have rubber or vinyl backings. These types of rugs trap moisture against your hardwood floors and can cause water damage.
Don't Use Cleaning Products
In a blog post about spring cleaning, you probably weren't expecting us to recommend against using cleaning products on your hardwood floor. The truth is that you want to be very careful about how you clean hardwood floors. Many cleaners available at supermarkets can cause
.
We recommend that you never use the following cleaning products on your hardwood floors:
Ammonia-based Cleaners
Bleach
Acidic Cleaners (vinegar)
Polishes
Acrylic Finishes
Abrasive Cleaning Soaps
Wax-based Products
If you feel that your hardwood floor needs cleaning, we recommend that you use hot water and a damp mop. Do not overly saturate your hardwood floor; otherwise you'll cause irreparable water damage to your hardwood floors.
Schedule Hardwood Floor Refinishing
If you notice any surface scratches in your hardwood floors, you might want to contact a licensed hardwood floor refinishing contractor. Fading hardwood floors may require hardwood floor refinishing to restore its original appearance. Spring is the perfect season to schedule because it is warm enough outside to open up all your windows for proper ventilation.
Be sure to consult with a hardwood flooring specialist to see if you might be able to get away with screening hardwood floors. Hardwood floor screening (also called buffing) restores the shine in your hardwood floors by scraping off the topmost layer and applying a fresh coat of polyurethane. This is a less drastic measure than refinishing.
If you are interested in our hardwood floor installation and refinishing services, please feel free to call our Grand Rapids hardwood floor design consultants at (616) 458-4806. Complete Flooring & Interiors is dedicated to helping homeowners preserve the natural beauty of their hardwood floors.