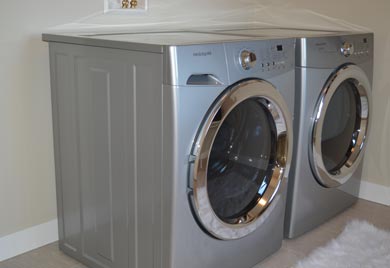 How many loads of laundry do you run a week? If you have kids, it's probably a lot. Your family needs flooring for laundry rooms that will last a long time and stand up to a lot of punishment.
When choosing laundry room flooring, you'll need a material strong enough to withstand high foot traffic, spills, scratches, and dents.
Fortunately, our flooring store can help you find the best flooring for laundry rooms.
Laundry Room Flooring
How is your laundry floor different?
Your laundry room flooring has to withstand unique conditions found nowhere else in your home. For example, the agitation from the washer and dryer is enough to scuff, scratch, or even dent your new .
Whatever flooring you choose will also have to withstand spills, leaks, heat, and high humidity. Keep in mind that while laundry rooms have high foot traffic, the flooring underneath your machines will take the most abuse.
Best Laundry Room Flooring
The best laundry room flooring should be able to resist everyday use, foot traffic, spills, and your kids. Fortunately, we can help you find the best flooring for your home.
Your laundry floor should be:
Resistant to high humidity
Waterproof
Stain resistant
Easy to clean
Durable
Lifeproof
Luxury Vinyl Flooring
If you love the look of hardwood flooring, ask us about luxury vinyl flooring. is able to mimic the natural aesthetic of hardwood, yet is highly resistant to water and humidity. Many homeowners appreciate having laundry room flooring that doesn't require being careful all the time. That way, you won't have to worry when you accidently splash liquid detergent on your new floors or your washing machine leaks.
Vinyl flooring is versatile because it comes in sheets, tiles, and planks. This means that you'll be able to select the style you want for your laundry room. Our flooring store has a large inventory so we can help you find what you need.
Floor Tiles
Tile is one of the toughest laundry room flooring options available. This lifeproof flooring is perfect for high traffic areas because you don't have to worry about the material getting scuffed or scratched over time. Unlike other flooring options, floor tiles won't show an obvious path of foot traffic 10 years from now. Floor tiles are also easy to clean. Simply dust the surface with a damp mop ever so often.
Worst Laundry Room Flooring
We don't recommend carpet or hardwood for laundry room flooring as both are vulnerable to high humidity. However, this doesn't mean that you can't use these flooring options in other areas of the home, such as the bedroom and living room.
Carpet
While plush carpet is perfect for bedrooms, it doesn't belong in your laundry room. Carpet fibers can trap dust and dander. That, with the high humidity, creates the perfect conditions in your laundry room for mold.
Hardwood Flooring
Since hardwood is a natural material, it expands and contracts with humidity. During times of high humidity (typically in the summer), the fibers in hardwood flooring absorb the water vapor in the air and swell. Cupping is what happens when the edges of a plank are higher than the middle. While a heating and cooling system controls the humidity year-round, it's not enough for rooms that experience high levels of humidity such as your laundry room.
As a Grand Rapids flooring store, we work hard to provide a wide inventory of laundry room flooring. To learn more about some of the best flooring for laundry rooms, call Complete Flooring & Interiors at (616) 458-4806.