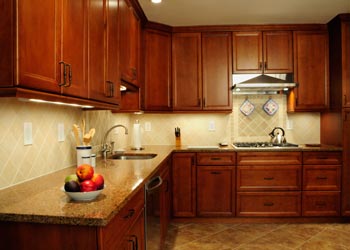 If you have ever visited our showroom, you'd know that there is a lot of selection for different
. You are able to pick from different colors, wood species, styles, built-in storage options and more. Unfortunately, all of these options can make it difficult to know you'll still love five years from now.
In this blog post, the Grand Rapids kitchen cabinet designers at Complete Flooring & Interiors provide you our tips for picking the perfect kitchen cabinets for your home. For more information on the different styles of kitchen cabinets available, we recommend reaching out to contractors near you that provide kitchen cabinet installation services.
Pick Colors and Aesthetics
The type of wood you choose for your light-colored cabinets can make your kitchen look spacious and airy. Dark-colored cabinets, on the other hand, give your kitchen a statelier sophisticated aesthetic. A cabinet design and build company can help you learn that you'll love for years to come.
will influence how others perceive the room. For example,
Choose Certified Cabinet Brands
We recommend choosing a cabinet brand that is certified by the Kitchen Cabinet Manufacturers Association (KCMA). In order to be a KCMA-certified brand, the cabinets must be able to withstand a series of tests to prove that they are built to last. resist high humidity levels, staining, and temperatures up to 120 degrees Fahrenheit. The KCMA also tests cabinets to show if their shelves can support the weight of a full pantry without bending.
Match Kitchen's Interior Design
If you are remodeling your kitchen, you'll want to make sure that your new cabinets match your countertops and flooring. Cabinets come in a variety of colors and materials, which make it easy to customize your cabinets to your kitchen's interior design. If you plan on selling your house in the near future, you'll want to choose a neutral aesthetic that will appeal to a wide range of potential homebuyers.
Consider How Cabinets are Built
There are pros and cons to choosing cabinets that came off an assembly line or have been custom built for your home. Stock kitchen cabinets can be quickly delivered to your home because they are made in bulk in a factory. Custom-built cabinets, on the other hand, can take up to 12 weeks to build to your unique specifications.
Customize with Built-in Storage
When you work with a cabinet design and build contractor, you are able to customize your new cabinets with built-in storage. Many homeowners appreciate being able to customize cabinets to fit the way they use their kitchens. For example, if you cook a lot, you may want to consider installing cabinets with rollout shelves. Rollout shelves provide easy access to pots and pans.
The Grand Rapids kitchen cabinet contractors at Complete Flooring & Interiors work hard to make sure you are completely satisfied with the latest investment in your home. If you are interested in our kitchen cabinet design and installation services, be sure to give us a call at (616) 458-4806.