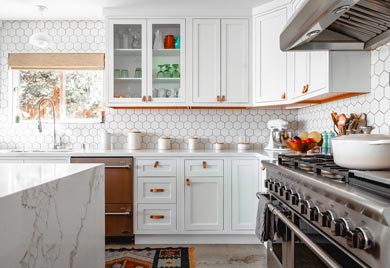 Adding "value" to a house means different things to different people. In the most obvious sense of the word, "value" refers to the return on investment you get from a remodel. Yet, "value" can also mean making your home an easier place to live and function.
Continue reading to learn the many ways a kitchen remodel adds value to not only your home, but your life. No matter your end-goal, our kitchen remodeling contractors are ready to help!
Increased Home Value With a Kitchen Remodel?
Return on Investment
According to Remodeling Magazine, a small kitchen remodel can give you a 92.9% return on investment. If you're planning on adding value to your home, a is a good place to start. We recommend visiting home improvement stores or even browsing Pinterest to discover exciting ideas for your . Our remodeling contractors can help you plan the best kitchen makeover for your home.
A kitchen remodel not only adds value to your home, but helps attract prospective buyers. Custom kitchen cabinets, new flooring, and other features can help your home stand out from the competition so it sells faster. However, it's important to remember that there's a threshold for how much return on investment you can get for your kitchen remodel.
Quality of Life
A kitchen remodel is not only a monetary investment, but a personal one. We believe that the kitchen is the heart of the home, which is why it's important to think carefully about how you wish to improve your living space. For example, custom kitchen cabinets can increase your storage space and declutter your counters. Our kitchen remodeling contractors are able to listen to your design and storage concerns to create the best kitchen cabinets for the space available.
It'll be easier to use your kitchen once it's designed for maximum storage and ergonomics. In fact, 41% of respondents to a 2017 Houzz study said that they cook more at home since kitchen remodeling. Half of respondents reported that a kitchen remodel helped them have more family time. Don't leave your kitchen remodel up to chance. Hire our kitchen remodeling contractors for expert design advice and quality results. We can help you plan out your next steps!
Thoughtful Planning
Save money by thoughtfully planning your kitchen design from the start. We can help you come up with the best kitchen designs to complement the rest of your home. You'll want to make sure your kitchen remodel matches your home's style so the interior design flows from room to room. Our contractors will make sure your kitchen remodel is done the correct way, ensure deadlines are met, and work within your budget.
Our contractors stay with you throughout the entire project. We manage all the details, from design to installation. This guidance helps you make the most out of your kitchen remodel so you can receive the highest possible return on investment.
Our kitchen remodeling contractors in Grand Rapids, MI bring years of experience to each project. To request an estimate, call Complete Flooring & Interiors at (616) 458-4806.