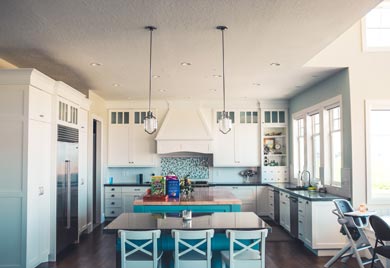 Are you thinking about upgrading your kitchen cabinets? Cabinets can really make or break a kitchen, and they're a great opportunity to add value to your home.
Replacing your old kitchen cabinets can add value to your home and give your space an instant makeover. If you're looking to replace your cabinets, our kitchen cabinet contractors can help you choose new ones that work with your style and budget.
Here are 5 tips to keep in mind when it comes time to replace your kitchen cabinets.
Cabinet Replacement Tips
Brand Matters
It's worth your time to ask about cabinet brands certified by the Kitchen Cabinet Manufacturers Association (KCMA).
must pass a series of rigorous tests to prove they are durable enough for everyday kitchen use.
In fact, kitchen cabinets with the KCMA certification and seal are designed to perform above and beyond what is needed for your kitchen and are able to resist staining, high humidity levels, and temperatures up to 120 degrees Fahrenheit without discoloration or blistering.
Not All Cabinets are Created Equal
Different kitchen cabinets because they are affordable while still being customizable. Since stock kitchen cabinets are made in bulk on an assembly line, they are able to be quickly delivered to your home.
come with different price tags and accessory options. For example, many homeowners prefer stock
Semi-custom and custom kitchen cabinets require more time to make because they have to be built to meet your design specifications. In fact, custom cabinets can take up to 12 weeks to build.
Opt for Built-In Storage
More and more homeowners are starting to realize the benefits of custom kitchen cabinets. For example, cabinets with rollout shelves make it easier to reach pots and pans. If you plan on staying in your home for years to come, you may want to look into custom storage options like wine racks to make your kitchen your own.
Color Is Important
cabinet color, only to regret it six months later. If you use a light-colored wood like oak, your kitchen will appear more spacious and airy. Darker woods like mahogany, on the other hand, will give your kitchen a grander style.
that you'll still love three years from now. Many homeowners make the mistake of choosing a trendy
Donate Old Cabinets
Don't be so quick to throw out the kitchen cabinets you're replacing. Many organizations accept old kitchen cabinets and may even be willing to come over to your home to pick them up. Be sure to let your contractor know if you wish to donate your old cabinets to a program like Habitat for Humanity's ReStores. That way, they'll know to take extra care to remove cabinets so that they can be reused.
The Grand Rapids, MI kitchen cabinet contractors at Complete Flooring & Interiors work hard to make sure you are completely satisfied with the latest investment in your home. If you are interested in our kitchen cabinet design and installation services, be sure to give us a call at (616) 458-4806.