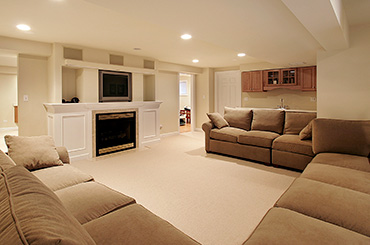 Are you interested in changing the aesthetic of your home? Whether you plan on replacing old carpeting or are simply looking for the next trend in interior design, new carpeting comes with many benefits. To ensure you can enjoy your new carpeting for as long as possible, we recommend contacting an experienced carpet installation contractor in your area. They will be able to walk you through your carpet design options so you can make the right interior design choices for your home.
Below are some of the ways new carpeting can improve your home's interior.
Muffles Sound
There's a reason why many apartment buildings have
in their units. One reason is because it's less expensive than hardwood flooring. The other reason is because carpet is well-known for its ability to slightly muffle sound.
If you live in a busy household, you may be interested in installing luxury carpeting in your home. For example, if you live in a two-story house, you might want to on the second floor so that you don't have to hear other people's footsteps. (This is especially helpful if you live with someone who likes to pace.)
If you have an exercise room, you may want to consider carpeting so that the entire household doesn't have to hear your footsteps as you follow along with your aerobics video. A music room can also be a great place to install new carpet (especially if one of your family members isn't the rock star they think they are). Be sure to consult with a Grand Rapids carpet installation company to see if carpeting is the right fit for your lifestyle and design preferences.
Warmer to Walk On
Michigan winters can be cold. This is why carpeting can be great for those who like to walk barefoot around the house. Instead of having cold feet or always feeling the need to pull on some thick slippers, you can enjoy walking on warm
.
Other flooring options, such as hardwood flooring, can be cold to the touch during the fall and winter months. If you would prefer always having a warm comfortable surface to walk on, carpeting may be the right choice for you. A professional carpet design consultant can help you determine the right or other areas in your home.
Wide Color Palette
While
is limited to natural hues of brown and black (unless you decide to paint), carpeting gives you the creative license to pick whatever shade you want. Such creative freedom can really open up a door of possibilities. Of course, whether or not you decide to open that door is up to you.
If you plan on selling your home in the near future, we recommend that you stick with neutral colors. However, there's nothing that says you can't pick whatever color catches your eye if you plan on staying in your home for the next several years. You should be able to spend your hard-earned money to customize your home any way you want.
If you are interested in our carpeting installation service, please feel free to call our Grand Rapids MI carpet installers at (616) 458-4806. Complete Flooring & Interiors is dedicated to helping homeowners just like you improve their home's interior with quality carpet installation services.