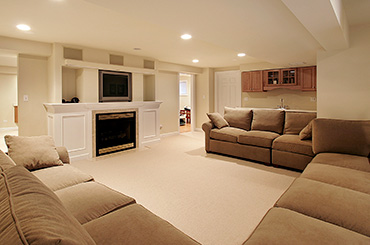 When it comes to carpeting, it can improve your home by muffling sound, making it a generally warmer place, offering a wide palette of colors, and increasing your home's resale value should you want to move one day. Are you interested in changing the aesthetic of your home? Whether you plan on replacing old carpeting or are simply looking for the next trend in interior design, new carpeting comes with many benefits. To learn more about some of the ways new carpeting can improve your home's interior, keep reading.
Carpeting Helps Muffle Sound
There's a reason why many apartment complexes have
in their units.
One reason is that it's less expensive than hardwood flooring. The other reason is that carpeting is well-known for its ability to slightly muffle sounds.
From kids running around to people watching tv or playing music, carpeting helps reduce echo and the distance noise travels. This is useful if you want people to feel like they have their own space, whether that's a private study or an office.
If you live in a busy household, you may be interested in installing luxury carpeting in your home. For example, if you live in a two-story house, you might want to
on the second floor so that you don't have to hear other people's footsteps while on the first floor (this is especially helpful if you live with someone who likes to pace!)
If you have an exercise room, you may want to consider carpeting so that the entire household doesn't have to hear your feet slam against the treads as you get your steps in.
Be sure to consult with a Grand Rapids carpet installation company to see if carpeting is the right fit for your lifestyle and design preferences.
Carpeting Is Warmer to Walk On
Michigan winters are brutally cold. Hardwood floors may look nice, but as soon as it gets below 55 degrees they can be chilly to walk on.
This is why carpeting is great for those who like to walk barefoot around the house. Instead of having cold feet or always feeling the need to put on some thick slippers, you can enjoy walking on warm,
.
If you would prefer always having a warm, comfortable surface to walk on, carpeting may be the right choice for you. A professional carpet design consultant can help you determine the right or other areas in your home too.
The feel of your carpeting will also vary when it comes to the style of your carpeting. Wool carpets are warm and cozy, but are not great when it comes to stains. On the flip side, something like nylon carpeting has better stain-resistant properties, but are not as comfortable as wool.
Carpeting Offers a Wide Color Palette
While
is limited to natural hues of brown and black (unless you decide to paint), carpeting gives you the creative license to pick whatever shade you want. Such creative freedom can really open up a door of possibilities! Of course, whether or not you decide to open that door is up to you.
If you plan on selling your home in the near future, we recommend that you stick with neutral colors. However, there's nothing that says you can't pick whatever color catches your eye if you plan on staying in your home for the next several years.
Below we have a list of our design services are here to help you find the best carpeting for your home.
and some of the common things people often correlate to them. Of course, this list isn't an end-all-be-all list, but it may be useful for getting ideas! If you're interested,
The Common Colors
BROWN/GRAY: These are generally safe colors. The worst case is that a room looks dull, where the best case is when brown or gray help a room look clean and precise, or generally comforting. Both these colors allow you to focus more on what you decorate the room with than with how the floor looks.
WHITE: White is known as a pure color. It's a great choice in carpeting if you want to convey cleanliness or a level of elegance matched with wisdom. But remember, white carpeting is white carpeting. Any spill could result in a stain.
BLACK: Black is a swing color. What we mean by that is that black can be taken positively or negatively. Often, black is associated with emptiness or power, but is often also equated to professionalism, wisdom, and tact. As an experienced carpet installation company in Grand Rapids, we'll be sure to help you match black in the best way.
The Uncommon Colors
RED: When people think of red they often think of emotions like anger, and this is valid. how red does cause physical stimulation, although it's not as extreme as you may think.
Still, red is a color that requires an expert to use properly. Just adding red carpets because you want red carpets could result in you, or your house guests, feeling unrest or tense when trying to relax.
YELLOW: Yellow is a high energy color. Try using it in a space where you want creativity to flow and ideas to be heard. If you're hoping for your living room to be a space where people open up and feel comfortable though, yellow might not be the right carpet color for it.
GREEN: This is arguably the hardest carpet color to get right. On one hand, people might think of nature or healthy living when they see green, but on the other (the more common hand) it reminds people of sickness, money, or corruption. If you want to use green carpeting in your home, talk with us first and we'll plan it out so that your home is a place that naturally welcomes people.
BLUE: Your home doesn't have to feel blue just because you have a blue carpeting. Blue is calming, but also a gentle or bubbly color. When using blue, remember that the darker it gets, the more insightful it may seem while the lighter it gets the more cheery feelings it often gives.
Whatever color you choose, Complete Flooring Interiors is here to help decide and make sure your carpeting gets installed properly.
Need Carpet Installed?
If you are interested in our Grand Rapids carpeting installation service, please feel free to contact us online or by phone at (616) 458-4806. Complete Flooring & Interiors is dedicated to helping homeowners just like you improve their home's interior with our quality carpet installation services.