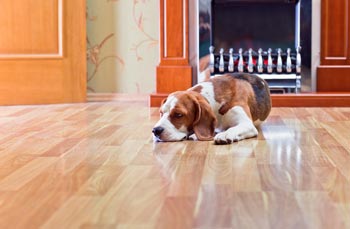 Does this describe you? You love your dog but don't love how dog nails could ruin your new hardwood floors? If so, you're not alone. One of the most common questions we get from customers is whether they can without worrying about the damage from Fluffy's nails. In this blog post, we'll give you some of our best tips for picking hardwood floors that will withstand the test of time and the scrabbling of dog claws.
Avoid Soft Woods
No one tree species used for hardwood floors are exactly the same. This is why it's important you ask a hardwood flooring store about the attributes of a wood species before buying. We recommend dog owners stay away from wood species that are soft because they are more likely to scratch and dent.
Below is a list of some soft woods dog owners should avoid:
Carbonized bamboo
American cherry
American walnut
Cedar
Pine
Fir
The good news about some of the above tree species is that while they are less durable, they are also more expensive. In our opinion, why spend more money for
that won't last as long? Save some money (and some grief) by that will last you for years to come.
Use Solid Hardwood
Solid hardwood flooring is more durable, which means it will take more effort to scratch and dent the surface. Like the name suggests, solid hardwood flooring is completely made out of hardwood. Engineered wood floors, on the other hand, have only a thin slice of hardwood sitting on top of plywood. As you might imagine, aren't as durable and aren't recommended for dog owners.
Rethink Distressed Hardwoods
It's now the trendy thing to install distressed hardwood floors. The great thing about distressed hardwood floors is that if your dog scratches the floors, you likely won't be able to tell. Just think of the extra scratches as a way of adding character to an already distinctive floor. If you hate the look of distressed hardwood floors, don't worry about it. There are plenty of other things you can do to pick out a hardwood floor your dog can't destroy.
Pick Woods with Strong Graining
Woods with strong grain patterns are better at hiding scratches, dents, and other damage caused by dogs. For example, red oak and hickory woods have strong graining that distracts the eye from
. Be sure to ask the salesperson about other tree species with strong graining.
Avoid Glossy Finishes
We can understand the allure of glossy hardwood floors. However, they aren't the best choice for dog owners. Hardwood floors with glossy finishes often show every single scratch and dent in startling detail. For dog owners, we recommend choosing satin or matte finishes for hardwood floors.
The hardwood floor contractors at Complete Flooring & Interiors are dedicated to helping you create beautiful living spaces (no matter whether you have dogs or not). If you are interested in learning more about hardwood floor installation, give our Grand Rapids flooring store a call at (616) 458-4806.