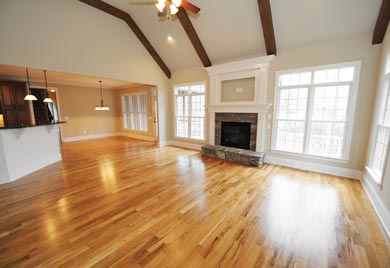 Hardwood flooring can be a great investment for your home. Whether you're thinking of selling in the near future or just want to prepare for a home sale down the line, wood flooring is an attractive asset to have on your side.
According to Realtor.com,
gives you between 70% and 80% return on investment! Contact us today if you would like to learn more.
If you'd like to add hardwood flooring to your home, here's what our hardwood flooring installers have to say about choosing the right floor for you.
Hardwood Flooring Tips
Type of Wood
The type of wood species you choose will affect the durability, color, and grain patterns in your new floors. Wood floor installation is an investment in your home, which is why it's important to research what wood species would best complement your interior design. Your local remodeling company can help you find the right hardwood.
Wood Texture
Do you prefer sleek hardwood floors or something more rustic? Either way, hardwood floors come in a variety of textures to match your design preferences and lifestyle. For example, you may want to consider distressed wood flooring if you have a busy household with high foot traffic. Rustic hardwood flooring is also great for disguising scratches from pet claws or wheelchair and walker use. Highly polished hardwood floors, on the other hand, make your home look elegant and sophisticated.
Floor Color
Wood species used for hardwood floors come in a range of colors to complement your home's surroundings. For example, dark hardwood floors can help make a large house feel cozier. Likewise, white wood flooring helps your home feel more spacious and airy. Light hardwood floors are also able to disguise dirt better than their dark counterparts.
Keep in mind that what color hardwood you pick will also affect the level of maintenance needed to keep your flooring looking nice. For example, black wood flooring is more likely to show dust and dirt. While black hardwood flooring can give your home a touch of luxury, many of the homeowners we work with decide to install dark wood floors that are just a shade or two lighter.
Durability
Looking for wood floors that won't scratch from Fido's claws? You may want to consider red oak hardwood flooring. Red oak flooring is able to resist scratching better than other species (like pine), which makes it an attractive choice for pet owners. Also, keep in mind that scratches in can be sanded out and refinished as needed.
Sustainability
At Complete Flooring & Interiors, we value sustainability. If carbon footprint is something that's important to you, you can choose a brand of hardwood flooring that shares those priorities. We offer 18 green brands in our selection of hardwood flooring options, including Anderson® Hardwood Floors and Appalachian Hardwood Floors.
Our Grand Rapids hardwood floor installers have many different types of wood flooring to complement your home's interior design. To request a quote for hardwood flooring, call Complete Flooring & Interiors at (616) 458-4806.