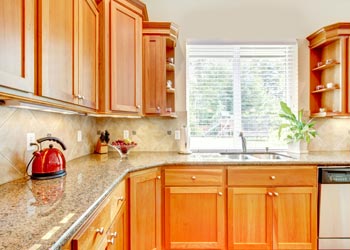 When most people think of cabinets, they think of the built-in storage in their kitchens. However, if you restrict your thinking to this viewpoint, you could miss out on some great interior design solutions throughout your home.
Complete Flooring & Interiors is a custom cabinetry company that's dedicated to helping clients make the most out of their living and working spaces.
An organized place to put your belongings can make you more efficient in your home office and help you get your kids ready for school during your morning routine.
Bathrooms
Storage options in the bathroom usually include shallow medicine cabinets and little else. Thankfully, you can hire a contractor to craft custom bathroom sink cabinets and bathroom vanities. They'll be able to customize your cupboards to fit your unique needs.
You'll find it's more convenient to store your items in bathroom cabinets than it is to take up precious counter space. Need a place to store a stack of bath towels or your collection of shampoos? We also offer storage options like tall bathroom wall cabinets or bathroom vanity cabinets to organize your bathroom and declutter the counter space around your sinks.
Home Offices
Do you run a business out of your home? Consider adding custom cabinetry to your working space to contain all of your office supplies. Keeping all of your supplies in bookshelves or filing cabinets can take up valuable floor space. With custom cabinets, you can keep your floor clear for a useful collaboration space where you can hold meetings with clients and colleagues.
Wall cabinets set a professional tone for your home office. Sometimes, when running a business out of your home, it can be hard to establish credibility with clients. However, built-in cabinets signify a commitment to the job. It sends an unconscious message to the client that, like your wood cabinets from Complete Flooring & Interiors, you are here to stay. You can pick from our wide selection of hues and shades to find the perfect match for your home office.
Kitchens
Kitchens are the most popular room for cabinet design company to learn what storage options are going to work best for your space. We also offer a wide variety of glossy woods to choose from, which include light and dark woods.
. We recommend working with a
When choosing kitchen cabinets, it is very important to consider the aesthetic you want for your home. Cabinets are a vital element of kitchen design. With , you can match your kitchen's decor with the rest of your home, or imbue a new style.
Complete Flooring & Interiors is a Grand Rapids cabinetry company that's dedicated to making sure you love your new cupboards. Since our cupboards are made from high-quality materials, you can be sure that your investment will last a long time and instill beauty in your living and working spaces. If you want to install cabinets in your bathroom, home office, kitchen, or any other space, give our cabinet installation contractors a call at (616) 458-4806.