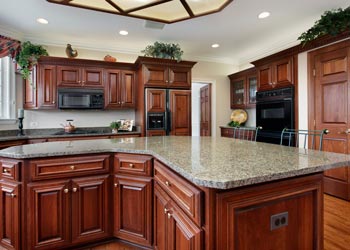 Are you in the market for new kitchen countertops? If so, you're in the right place. As a countertop installation company, we get a lot of questions from clients about the best types of kitchen countertops to install in their homes.
In this blog post, the Grand Rapids interior designers at Complete Flooring & Interiors will go over the so you can make an informed decision.
Quartz
If you are interested in selling your home in the near future, you may want to consider the value quartz countertops add to your home. Many homeowners adore because they come in a wider range of colors than natural stone materials.
Since quartz is nonporous, this means that you don't have to worry about staining your new kitchen countertops. Nonporous countertops also protect you and your family from the bacteria that can grow on cooking surfaces.
The cost of quartz countertops is between $115 and $200 per square foot, which makes it an investment in your home. Since quartz is a durable countertop material that won't chip or crack, you'll be able to enjoy your new countertops for decades to come.
Granite
Granite is a natural countertop material, which means you'll need to pick out the exact slabs you want for your kitchen. Many homeowners appreciate the fact that their kitchen granite countertops are unique. However, you'll want to make sure you hire an experienced kitchen countertop installation contractor who knows how to best hide seams.
While there is little maintenance associated with
, we do recommend having them sealed to prevent staining. The cost of usually runs between $75 and $125 per square foot.
Solid Surface
If you don't like how natural stone countertops are cool to the touch, you may be better off with solid surface countertops. Solid surface countertops are made out of acrylic and polyester blends and come in a range of colors and styles. Consider solid surface materials if you want to match your countertops to a specific color scheme in your home. Solid surface countertops have invisible seams and can be designed to fit any shape or size kitchen.
Similar to quartz, solid surface materials are nonporous. This means they won't harbor bacteria that could make you and your family sick. While the nonporous surface makes this countertop material resistant to stains, the same can't be said of high temperatures. However, if there is damage, a professional can sand and buff the surface. Solid surface countertops typically cost $45 to $75 per square foot to install.
Laminate
Laminate is an affordable kitchen countertop material. Depending on where you buy laminate countertops, you could even spend as little as $25 per square foot. However, keep in mind that
are vulnerable to heat and scratches. Since laminate is a manufactured material, it comes in a generous range of colors and patterns. Laminate even allows you to mimic the look of more expensive materials like granite.
The Grand Rapids countertop installers at Complete Flooring & Interiors are dedicated to making sure you are completely satisfied with your new countertops. If you are interested in browsing through our inventory of kitchen countertop materials, give our kitchen countertop installers a call at (616) 458-4806.