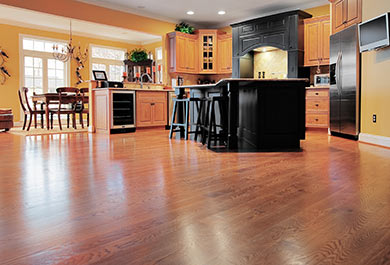 If you are looking to upgrade your home's new kitchen floor can be a big commitment, which is why you should call a reputable kitchen flooring contractor with any questions you might have.
, you are probably debating on which would be the best fit for your kitchen. We understand that investing in a
Below, you will find our top four picks for kitchen flooring. For more information, we recommend you reach out to a knowledgeable flooring installation company in your area.
Hardwood Floor
Hardwood flooring is a timeless addition to any room. However,
seem to shine the most when installed in homes with open floor plans. When designing for an open floor plan, you need to consider how to make the living space feel cohesive. Hardwood floors can be used not only for your kitchen, but also the dining area, and living room.
Vinyl Floor
Vinyl flooring is an affordable option for homeowners looking to improve the aesthetic of their kitchen. If you spend a lot of time cooking, you may want to consider the
. Not only are vinyl floors resistant to water and stains, but they also are one of the softest flooring options available.
This means that you can cook with confidence, not having to worry about spilling on your new vinyl floors. You also should be able to stand on your feet comfortably for long periods of time while cooking.
You can buy different designs of vinyl flooring to imitate the look of more expensive materials, such as stone tile or hardwood flooring. An experienced flooring installation contractor will be able to help you pick the right vinyl floor design for your kitchen.
Porcelain Tile
Porcelain tile is one of the toughest kitchen floor materials available. This means that if you or a family member has a tendency to be clumsy in the kitchen, you don't have to worry about any damage to your new porcelain tile if you drop a bowl. Porcelain tile is also great for homeowners who love the look of stone flooring, but hate the price tag.
Cork Flooring
Environmentally-conscious homeowners may want to consider the benefits of cork flooring. If you are worried about what impact your new flooring will have on the environment, you should know that the tree bark used for cork flooring is sustainably harvested. This means that the tree is not harmed and is able to grow the bark back for repeated harvests.
Cork flooring is also slip-resistant and is softer than wood or tile. If you are worried about a member of your family slipping and falling, you may want to consider installing cork flooring for their safety.
Ultimately, which flooring you decide to install in your kitchen is up to you. However, if you need assistance looking through your options, we recommend you consult with an experienced kitchen flooring contractor in your area. They will be able to walk you through to suit your design preferences, lifestyle, and your home's interior design.
If you are interested in any of our flooring or cabinetry services, please contact our Grand Rapids flooring contractors at (616) 458-4806. Complete Flooring & Interiors is a flooring design and installation company dedicated to helping people just like you pick the perfect kitchen flooring options.